ESS-1655HD™ Decanter Centrifuge
Elgin's field proven ESS-1655HD2™ decanter centrifuge is the perfect choice whether you are working toward maximizing product recovery or looking to get the most out of your "zero-discharge" closed-loop system.
When solid/liquid mixtures with a high portion of solids need to be separated, decanter centrifuge, also known as a horizontal bowl centrifuge, are the solution of choice.  Used to separate a mixture that consists of two substances with different densities by using the centrifugal force resulting from continuous rotation. It is normally used to separate solid-liquid, liquid-liquid mixtures.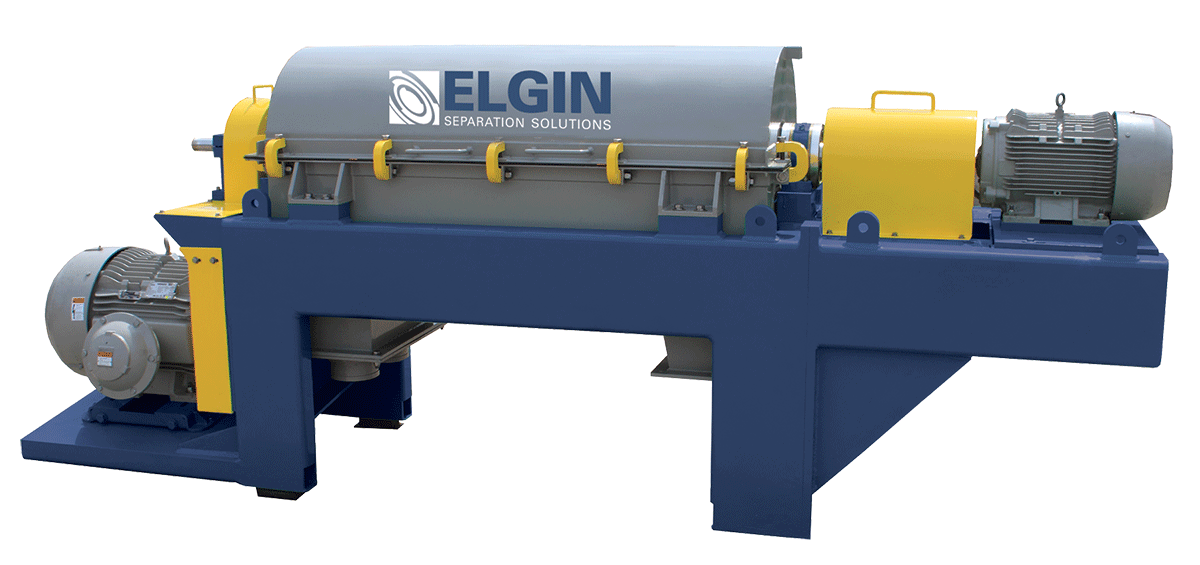 ESS-1655HD2™ Slim-Line with Detachable Back-Drive Module
ESS-1655HYD™ Electronically-Controlled Hydraulic Driven Decanter Centrifuge
Elgin's ESS-1655HD2™ decanter centrifuge is fitted with a NEMA premium, continuous duty, poly-chain driven, 60 hp main drive and a direct-coupled 20 hp back-drive.  The 60 hp main drive can operate the centrifuge up to 3,400 rpm, therefore generating more than 2,300 G's of force.  Using an inclined motor mount, motor and belt maintenance is made easy by the adjustment of two jack screws.  No additional motor mounts, brackets or tensioning devices are required.  
The ESS-1655HD2™ decanter centrifuge utilizes a carbon fiber poly-chain, no belt retensioning is required after installation is complete.  The carbon fiber tensile cords are length-stable and can withstand shock loads that frequently lead to belt failure.  More importantly, Elgin's carbon fiber poly-chain will not require quarterly replacement, saving thousands in annual maintenance expenses.     
The 20 hp back-drive coupled with a 56:1 planetary gearbox generates an industry-leading speed differential, which ultimately translates into a larger performance window.  This performance window is what grants the ESS-1655HD2™ decanter centrifuge maximum flexibility when managing the cut-point and the moisture content of discharged solids.  
ESS-1655HD2™ Decanter Centrifuge Touch Screen Control System
To ensure maximum operator flexibility, Elgin has developed a proprietary touch-screen VFD control system.  Each stainless steel, NEMA 4X panel is built from the ground up using the most sophisticated electrical components and Yaskawa™ A1000 variable frequency drives.  Elgin's VFD systems include a variety of enhanced features including, internal lighting, ventilation and heating, Ethernet porting for diagnostics and programming updates, and a custom designed user interface that allows for maximum operating flexibility and control.  Elgin's proprietary user interface provides complete control of all systems, as well as, a sophisticated set of diagnostic tools, information libraries and read-only fault logs.  Class 1 / Division 1 explosion proof panels with air conditioning and purged-air protection systems are also available.
ESS-1655HD2™ Slim-Line Centrifuge
Includes NEMA 7 class 1 – division 1 explosion proof push-button control panel with soft-start and 50' of armored and sheathed electrical cable for MVD configurations.
60 HP main drive explosion-proof motor.
Optional 20 HP back drive motor module.
Six (6) stainless-steel, epicentric, liquid-end discharge ports.
Four (4) wide-mouthed, tungsten carbide discharge ports and plows.
Stainless-steel rotating assembly 16" (406 mm) in diameter and 55" (1,397 mm) in length.
Safety and asset protection with drive-bearing thermal couple interlock, top cover interlock, vibration sensor interlock, and Motor amperage and torque overload sensor interlocks.
ESS-1655HYD™ Hydraulic Centrifuge
75hp Electric Motor, 460v/60hz – 3 Phase Explosion Proof.
Variable, Dual-Displacement Hydraulic Pump 75cc/r Max.
Variable Speed Hydraulic Motor.
40 Gallon (151 Liters) Hydraulic Fluid Reservoir with Desiccant Breather.
300 psi Air Cooled Hydraulic Oil Cooler.
NEMA 4X Class 1 – Division 1 PLC Control Panel with HMI Display Screen.
NEMA 4X Class 1 – Division 1 Disconnect Control Box.
Dedicated Pressure Gauges (Speed Increase, Speed Decrease, Oil Pressure, Charge Pressure).
56:1 Solids Control Gear Box.
Feed Pump Direct Connect Plug Inlet.
V-Belt Driven.
Epoxy Powder Coated ASTM A36 Carbon Steel Machined Base and Skid.
304 Stainless Steel Rotating Assembly, Top-Cover, Bottom-Cover, Feed Tube and Guards.  
Enhance decanter centrifuge performance with the addition of polymers. Elgin offers a complete line of containerized polymer injection systems.