ESS-1967HD2™ Decanter Centrifuge
Whether you are working toward maximizing product recovery or looking to get the most out of your "zero-discharge" closed-loop system, Elgin's field proven ESS-1967HD2™ decanter centrifuge is the perfect choice.
A decanter centrifuge (also known as solid bowl centrifuge) separates continuously solid materials from liquids in various types of slurry material.  Used to separate a mixture that consists of two substances with different densities by using the centrifugal force resulting from continuous rotation. It is normally used to separate solid-liquid, and liquid-liquid mixtures.
The ESS-1967HD2™ decanter centrifuge rotating assembly is machined from stainless steel in a "split-bowl" configuration.  By using a split-bowl, the solids end, which experiences the greatest level of wear, can be replaced without requiring replacement of the entire rotating assembly.  To protect the upper cover from the radial discharge of solids, a 180 degree radial, protective deflector plate has been installed. This deflector plate is easily replaced and eliminates the potential of the top cover being eroded by solids discharge.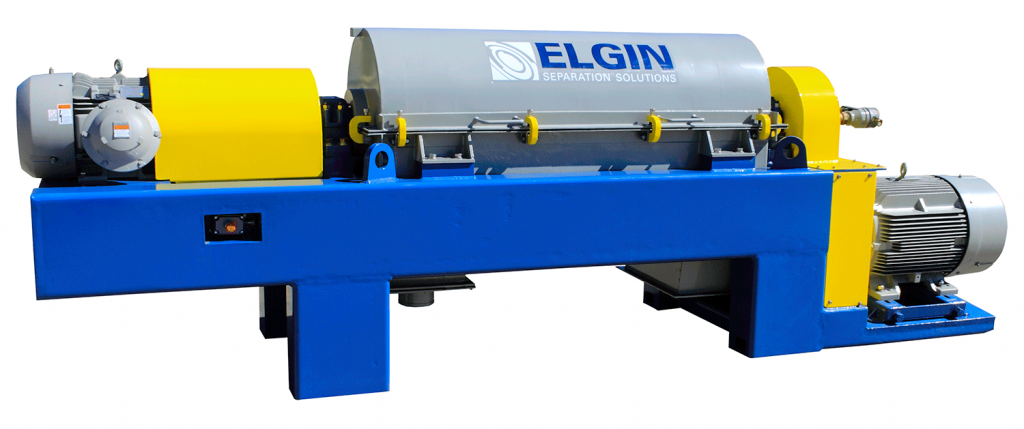 ESS-1967HD2™ Decanter Centrifuge
Epicentric Liquid-End Discharge Ports
Stainless-Steel Rotating Assembly
Wide-Mouth Solids Discharge Ports
ESS-1967HD2™ Centrifuge Overview
Power and Performance
Elgin's ESS-1967HD2™ decanter centrifuge is fitted with a NEMA premium, continuous duty, poly-chain driven, 125 hp main drive and a direct-coupled 40 hp back-drive. 
The 125 hp main drive can operate the centrifuge up to a maximum rotational speed of 3,100 rpm, therefore generating more than 2,600 G's of force.  Using an inclined motor mount, motor and belt maintenance is made easy by the adjustment of two jack screws.  No additional motor mounts, brackets or tensioning devices are required.   
The 40 hp back-drive coupled with an 80:1 planetary gearbox generates an industry-leading speed differential, which ultimately translates into a larger performance window.   This performance window is what grants the ESS-1967HD2™ decanter centrifuge maximum flexibility when managing the solid/liquid cut-point and the moisture content of discharged solids. 
Rotating Assembly
Elgin's ESS-1967HD2™ decanter centrifuge stainless steel rotating assembly is 18.5" (470 mm) in diameter and 67.5" (1,712 mm) in length. By using a length over a diameter ratio of 3.5, Elgin achieves an extremely stable centrifuge. 
The rotating assembly is given further stability by the use of premium bearings, installed in heavy-duty pillow blocks.    The internal flights are lined with tungsten carbide tiles along their entire length of both the clarification and the tapered section, extending the ESS-1967HD2's ability to manage erosive solids.  Two threaded inspection ports have been installed within the rotating assembly so that flight wear can be monitored without disassembling the rotating assembly.  
ESS-1967HD2™ Centrifuge Features
125 hp main drive and 40 hp back drive.
80:1 planetary gearbox generates an industry-leading speed differential.
Six (6) stainless-steel epicentric liquid-end discharge ports.
Eight (8), "wide-mouth" tungsten carbide solids discharge ports and plows.
SKF™ premium bearings, installed in heavy-duty Miether™ pillow blocks.
Optional onboard active lubrication system provides for continuous lubrication of pillow blocks preventing bearing damage.
Built-in safety interlocks include thermal bearing sensors, lid sensors, excessive vibration sensor, and emergency stop button.
Touch Screen Control System
To ensure maximum operator flexibility, Elgin has developed a proprietary touch-screen VFD control system.  Each stainless steel, NEMA 4X panel is built from the ground up using the most sophisticated electrical components and Yaskawa™ A1000 variable frequency drives.  Elgin's VFD systems include a variety of enhanced features including, internal lighting, ventilation and heating, Ethernet porting for diagnostics and programming updates, and a custom designed user interface that allows for maximum operating flexibility and control.  Elgin's proprietary user interface provides complete control of all systems, as well as, a sophisticated set of diagnostic tools, information libraries and read-only fault logs.  Class 1 / Division 1 explosion proof panels with air conditioning and purged-air protection systems are also available.
Decanter Centrifuge Resources