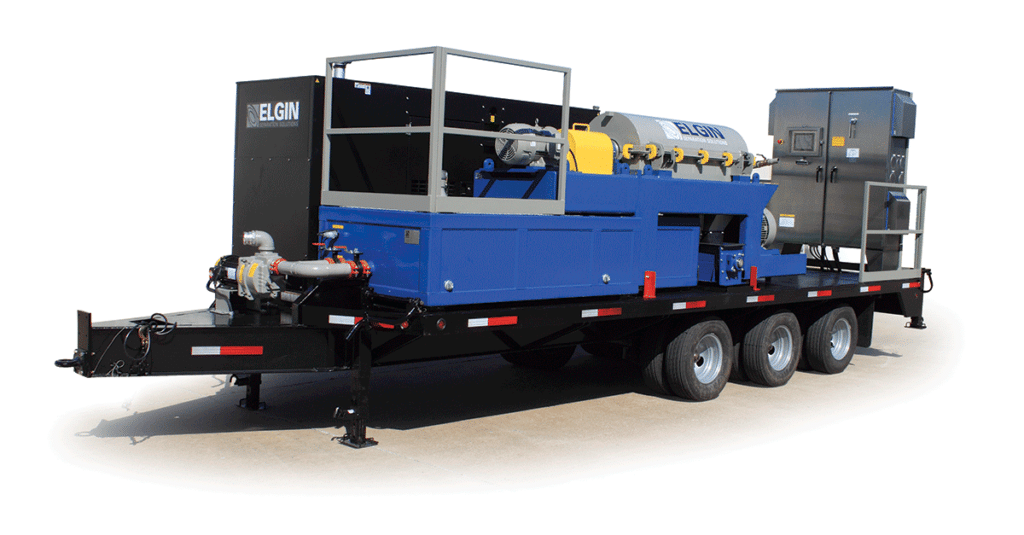 Elgin turn-key mobile centrifuge polishing system is the perfect solution for today's drilling contractors looking to maximize their existing solids control operations. Designed to handle large volumes of drilling fluid without slowing down drilling operations.
Fitted with Elgin's ESS-1450HD2 (200 gpm), ESS-1655HD (300 gpm), or ESS-1967HD2 (500 gpm) decanter centrifuge with onboard progressive cavity feed pump ensures consistent feed rate for maximum efficiency. Dedicated self-priming pump transfers centrate from the onboard collection tank. Optional hydration manifold allows for mixing of polymers with water-based drilling fluids prior to entering the centrifuge for maximum solids removal.
Combined with a Elgin's proprietary HMI touch-screen VFD control panel, solids discharge screw conveyor, tier-4 final sound attenuated generator and heavy duty axel trailer ensures this turn-key mobile polishing systems as the perfect solution for creating a closed-loop dewatering environment.
Available in 200 gpm, 300 gpm or 500 gpm centrifuge configurations.


Provides full integration with existing solids
control assets.


Utilizes a heavy-duty triple-axel or dual-axel trailer configuration.


Onboard tier-4 sound attenuated generator and chemical injection hydration manifold for thorough mixing of polymers available.


Solids are discharged directly to an onboard screw conveyor for waste management.


Onboard progressive cavity feed pump for consistent feed pressure and performance.


Dedicated self-priming pump for transferring of centrate from onboard collection tank.