Containerized Dewatering & Waste Oil Treatment Systems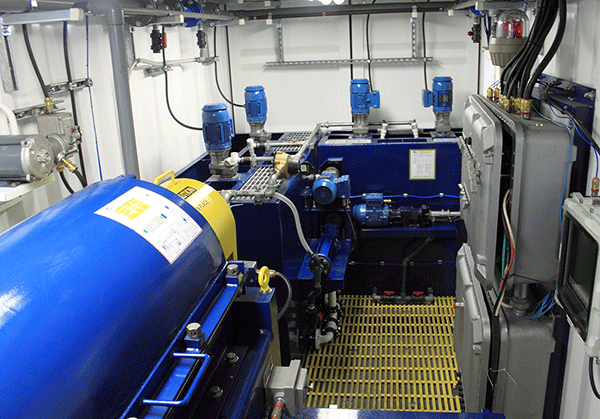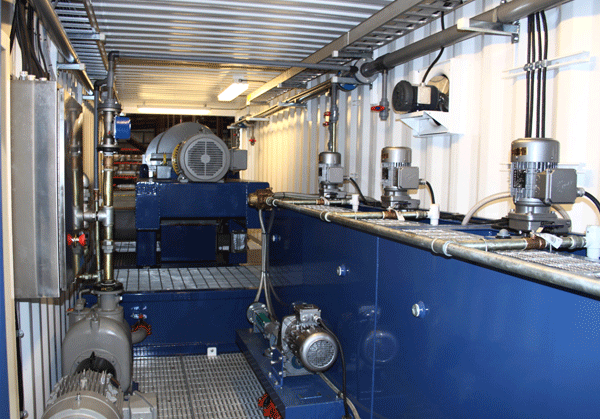 As the drilling industry is regulated by a myriad of environmental regulations that continue to become increasingly more stringent, having the right solids control and dewatering equipment has become vital to successful drilling operations. Dewatering presents a great deal of benefits and advantages. One such benefit includes discharge compliance, in which many cases result in a "zero-discharge" or "closed-loop system." In addition, the importance of treating waste oil from the drilling fluid is vital to maximizing profits.
Dewatering also maximizes drilling fluid recovery, ultimately lowering overall mud costs as well as disposal and transportation expenses. Furthermore, with these systems, mud properties improve and as mud properties improve, so too does the rate of penetration. With a "zero-discharge" or "closed-loop system" rigs can operate without mud pits, therefore reducing the location footprint and environmental impact.
20 Foot Dewatering System
Ess-1450HD2 Decanter Centrifuge
Polymer Mixing Tanks with
Top Mounted Agitators
Dedicated Polymer Injection Pumps
HMI touch Screen Control Panel
Onboard Flow Meter
Progressive Cavity Feed Pump
40 Foot Dewatering System
ESS-1967HD2 Decanter Centrifuge
Isolated Mud Testing Lab

Polymer Mixing Tanks with Top Mounted Agitators

Dedicated Polymer Injection Pumps

HMI touch Screen Control Panel

Onboard Flow Meter

Progressive Cavity Feed Pump