KEMTRON 1500MPX™ Package Mud System
ESS-WDD-550 Quintuplex Pump
The KEMTRON 1500MPX is the industry's first high-capacity mud reclamation system to feature a high-pressure pump that is electrically variable.   Instead of using a clutch and belt / chain driven system, Elgin's new KEMTRON 1500MPX deploys a direct coupled VFD-driven Ellis Williams WDD-550 HDD Quintuplex Pump that is powered from a single 500KW Tier 4 Final diesel-fired generator used to power the rest of the drilling fluid reclamation system.  Not only does this provide for a road-legal package, but it provides a lower total cost of construction and total cost of ownership.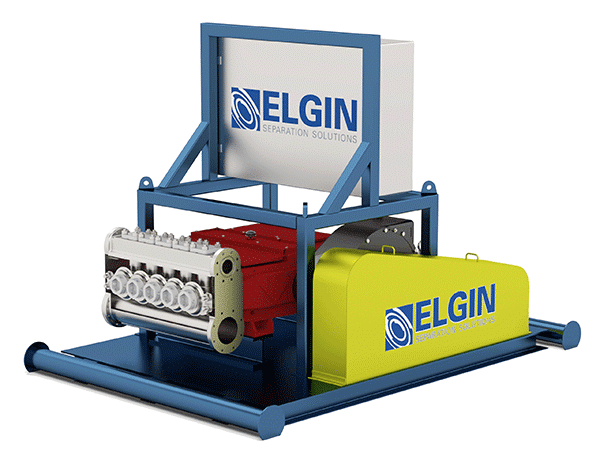 More than an original equipment manufacturer, Elgin Separation Solutions offers innovative turn-key solutions for today's operators in the trenchless industry.  As such, Elgin has become the leading provider of effective packaged fluid recycling systems.   With the introduction of our electrically-variable high-pressure ESS-WDD-550 Quintuplex pump package, Elgin now provides the market with the best combination of performance and turn-key integration.
Hydraulically Balanced Mud System
With the 8,000 gallon tank capacity, the KEMTRON 1500MPX is able to provide a hydraulically balanced mud system at 1,500 gallons per minute (8,000 gallons / 1,500 gpm = 5.3 minutes residence time, the design target for a hydraulically tuned mud system).  To achieve 1,500 gpm, the hydrocyclone packages are designed with (3) 10" hydrocyclone desanders and eighteen (18) 5" valve-isolated hydrocyclone desilters. 
Electrically-variable Ellis Williams

 

WDD-550 HDD Quintuplex

 

Pump.


Multi-pass cleaning system maximizes shaker and hydrocyclone performance helping to maintain target mud weights.


Three (3) dual-deck Hyper-G™ shakers with a combined 168 square feet screening surface.


Three (3) 10" hydrocyclone desanders and eighteen (18) 5" hydrocyclone desilters with pressure guages and dedicated isolation valves for operation efficiency.


Most efficient tank agitation per unit volume of mud utilizing top mounted agitators and mud guns ensures complete mixing performance.


Proprietary 'Cat-Walk Lift Assist' for easy onsite installation of side deck and rails.