Run-of-river refers to a water capture method that involves little or no water storage.  Most commonly found in high elevations, these intake systems are attractive for their minimal environmental impact and low civil installation cost.  A passive run-of-river intake typically includes a small dam and corresponding head pond – a perfect fit for Elgin's Coanda screen.  
When water depths are more consistent, a side or bottom intake gallery can be utilized to further simplify the intake since no dam is required.  These intakes will target a very low suction velocity and utilize the sweeping flow of the stream to keep the screen clean. 
Regardless of the arrangement, Elgin's passive screen offerings will harness the natural energy of the water to stay clean.  This will ultimately leave you with an affordable, low-maintenance intake that doesn't keep you up at night.  
LET GRAVITY DO THE WORK – Coanda screens are spillway screens that use the gravity drop of the water to keep the screen clean.  The approach plate uses the Coanda effect to accelerate water toward the screen – we let gravity do what it does best!  Tilted wedge wire panels are below the approach plate to slice the bottom layer of this fast-moving water.  The faster the water, the more efficient the screen is, so Elgin has optimized designs that are the lowest maintenance screens on the market.  Check out our standard profiles.
GO BIG OR GO HOME  –  Elgin's screens are the strongest in the world.  The backbone is our wedge wire.  While our competition uses light duty wedge wire, Elgin's standard duty screen wire is nearly 6x stronger, and our heavy duty wire is over 100x stronger.  Elgin also TIG welds the screen media, giving us a tremendous weld strength that is critical for the lateral loads that Coanda screen wires experience.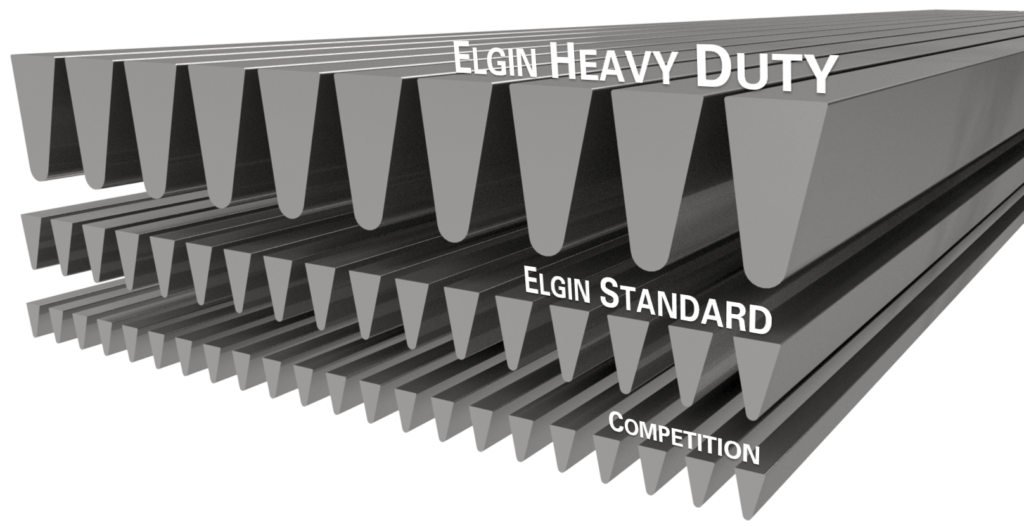 A Coanda intake system can be an intimidating endeavor.  We simplified this process by creating standard Coanda screen profiles to start your system design.  For clients with limited access to equipment or comfort with concrete we have developed our Coanda box units.  These units come with our standard screen and approach plates, but with integrated sump, mounting tabs and customizable outlet to fit your site needs.  Simply mount this box to your spillway and connect the piping to start capturing clean water.
See below for a great story of how one of our micro hydro clients evolved his intake from a window screen to an engineered Elgin Coanda screen system.
Submerged Run-of-River Screens
When a dam structure is not feasible, a submerged static screen can utilize the cross flow of the stream to keep clean.  The most common arrangement is a flat panel screen running parallel to the flow direction, sized to have a small suction velocity vector perpendicular to the stream flow velocity.  Fish hatcheries often use this type of arrangement with a brush system or an AirBurst system, or simply with an oversized screen that can have periodic manual cleaning. 
Elgin frequently partners with Farmers Conservation Alliance (FCA), who has a patented intake system called the Farmers Screen that can pull water with minimal environmental impact.  This is a horizontal wedge wire screen that pulls water through the screen at a very low velocity while allowing fish and debris to flow across the screen surface at a much higher velocity.  Elgin supplied the screens for FCA's largest install on the Truckee River in Reno, Nevada – the Derby Dam Project.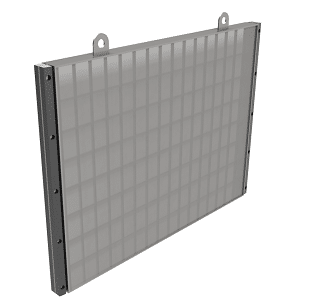 Elgin's wedge wire flat panel screens are able to withstand extreme loads and adhere to precise tolerances.  With fabrication methods tailored to the mining industry, our screens can handle anything your water source can throw at it.  Flat panel screens can fit into existing openings or can be supplied with guide rails to ensure smooth installation and serviceability over the life of the product.
Historically wedge wire screens have been dismissed in the fish screen industry based on flatness and structural integrity.  The basis of the strength claims are from a traditional resistance welded screen panel that is created from a cylindrical screen drum that is cut and flattened.  Elgin's screens are fabricated in a flat condition and are fabricated using TIG welding, which produces a much stronger weld and less stress from the lack of flattening.  Learn more about the Elgin difference.