ESS-1450HD2™ Decanter Centrifuge
Whether you are working toward maximizing product recovery or looking to get the most out of your "zero-discharge" closed-loop system, Elgin's field proven ESS-1450HD2™ decanter centrifuge is the perfect choice.
A decanter centrifuge, also known as a horizontal bowl centrifuge, solid bowl centrifuge or scroll centrifuge, is a machine used to separate a solid material from a liquid(s) using a high-speed and continual rotational process. Due to centrifugal force, the heavier particles are pushed through the liquid and collected on the inner wall of the bowl; the high-speed rotation of the bowl separates the solids and liquid materials.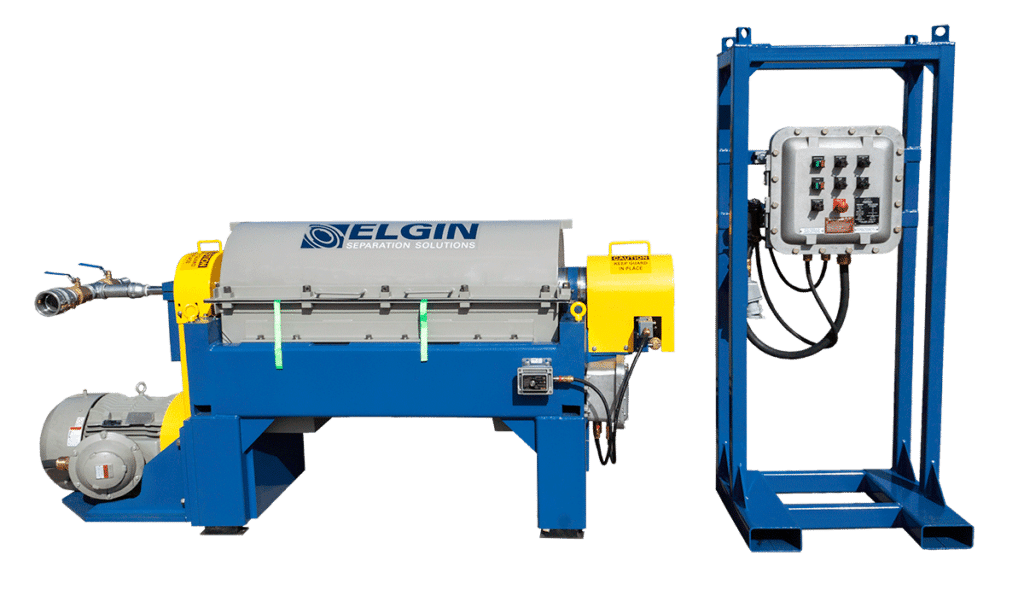 ESS-1450SL™ Slimline Centrifuge
ESS-1450HD2™ Centrifuge Overview
Power and Performance
Elgin's ESS-1450HD2™ decanter centrifuge is fitted with a NEMA premium, continuous duty, poly-chain driven, 50 hp main drive.  The 50 hp main drive can operate the centrifuge up to a maximum rotational speed of 3,250 rpm, thus, generating more than 2,100 G's of force.  By using an adjustable motor mount, motor and belt maintenance is made easy by the adjustment of two jack screws.  No additional motor mounts, brackets, or tensioning devices are required. 
By utilizing a carbon fiber poly-chain, no belt retensioning is required after installation is complete.  The carbon fiber tensile cords are length-stable and can withstand shock loads that frequently lead to belt failure. More importantly, Elgin's carbon fiber poly-chain will not require quarterly replacement, saving thousands in annual maintenance expenses.  Elgin's ESS-1450HD2™ decanter centrifuge can be fitted with either a 52:1 or a 125:1 planetary gear box.  
Rotating Assembly
Elgin's ESS-1450HD2™ centrifuge stainless steel rotating assembly is 14" (356 mm) in diameter and 49.5" (1,257 mm) in length.  By using a length over diameter ratio of 3.5, Elgin achieves an extremely stable centrifuge, even at maximum rotational speed.  The rotating assembly is given further stability by the use of two SKF™ premium bearings.  Both bearings are installed in precision-machined pillow blocks.  Equipped with externally accessible grease ports, daily greasing can be performed without the removal of machine guards.  The internal flights are lined with tungsten carbide tiles along the entire length of both the clarification and the tapered section, extending the ESS-1450HD2™ decanter centrifuge's ability to manage erosive solids.  
ESS-1450HD2™ Centrifuge Features
Carbon fiber poly-chain belt driven system.
Four, stainless-steel, epicentric, liquid-end discharge ports.
Four, wide-mouthed, tungsten carbide solids discharge ports and plows.
Premium SKF™ bearings installed in precision-machined pillow blocks.
Available in manual variable (MVD) or full variable (FVD) with back drive configurations.
2,100 maximum G-force available.
3,250 maximum rotational speed.
304 stainless-steel rotating assembly bowl construction.
52:1 or 125:1 planetary gearbox available upon request.
Control System Options
Depending on your budget and performance needs, the ESS-1450HD2™ decanter centrifuge can be fitted with either a Dual-Sheave Poly-chain, Mechanical Variable Drive ("DSP MVD") or any number of Variable Frequency Drive ("VFD") configurations.  
Elgin's new DSP MVD provides a new low-cost alternative to operators.  Elgin's DSP MVD allows operators to operate the ESS-1450HD2™ centrifuge at two different speeds without the complete disassembly of the fluid-end and sheaves, or the cost of the VFD control system.  Instead, by simply loosening the jack bolts on the motor mount base-plate, the poly-chain can be adjusted to the adjacent sheave.  As a result, Elgin's ESS-1450HD2™ centrifuges fitted with a DSP MVD drive can achieve both 1,250 and 3,250 rpm (460 V / 60 Hz) or 1,600 and 2,400 rpm without having two sets of sheaves or belts.  Alternatively,  Variable Frequency Controlled centrifuges allow the operator to change the centrifuge cut point with the flip of a switch.