{"infinite":"true","pause_on_hover":"true","adaptive_height":"false","items":"5","auto_play":"true","speed":"400","rtl_mode":"false","dots":"false","nav":"true","slides_to_scroll":"2","slides_to_scroll_mobile":"1","auto_play_speed":"2000","draggable":"true","swipe":"true","lazy":"false","carousel_mode":"standard","center_mode":"false","center_mode_padding":"60px","vertical":"false","nav_type":"nav_arrow","items_desktop":"4","items_desktop_small":"3","items_tablet":"3","items_mobile":"2","nav_arrow_type_horizon":"angle_arrow_horizon"}
ESS-1450HD2 Decanter Centrifuge
ESS-1450HD2 Slimline Decanter Centrifuge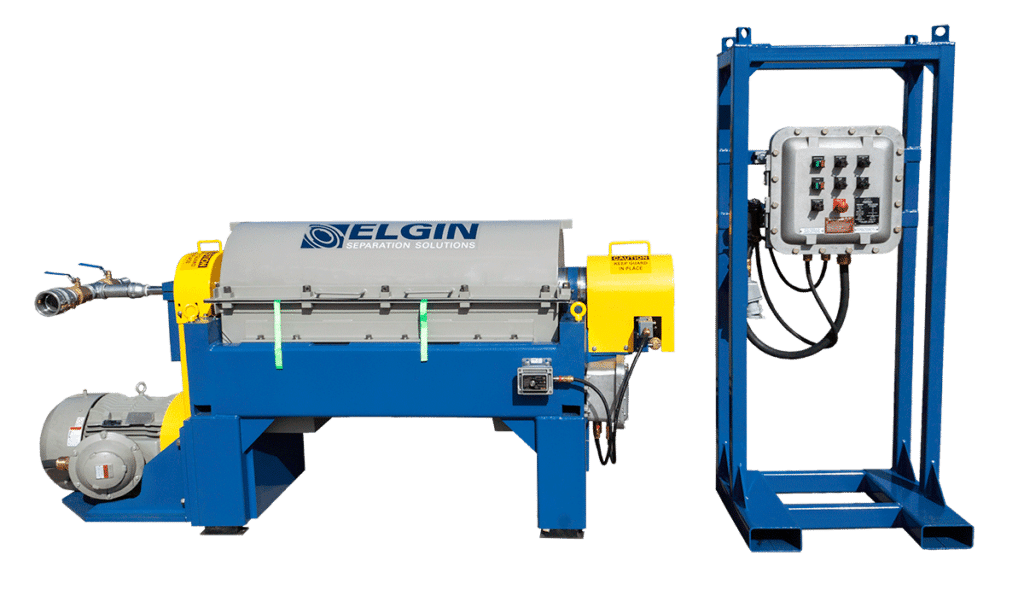 Whether you are working toward maximizing product recovery or looking to get the most out of your "zero-discharge" closed-loop system, Elgin's field proven solids control and dewatering centrifuges are a perfect choice.
Elgin's ESS-1450HD2 is fitted with a NEMA premium, continuous duty, energy-efficient, poly-chain driven, 50 hp main drive. The 50 hp main drive can operate the centrifuge up to a maximum rotational speed of 3,250 rpm, thus, generating more than 2,100 G's of force. By using an adjustable mount, motor and belt maintenance is made easy by the adjustment of two jack screws. 
Carbon fiber poly-chain belt driven system.
Four, stainless-steel, epicentric, liquid-end discharge ports.
Four, wide-mouthed, tungsten carbide solids discharge ports and plows.
Premium SKF™ bearings installed in precision-machined pillow blocks.
Available in manual variable (MVD) or full variable (FVD) with back drive configurations.